About Us
Mike Marchand began Rocky Mountain Balloon Adventures in 1986. He is a commercially licensed pilot who's well-known around town for flying his signature red, yellow and blue balloon; a beautiful sight each morning for residents and tourists alike.
Mike founded Colorfest (a weekend full of events including a mass hot air balloon ascension, a balloon glow, and of course, lots of hot air balloons) in 1986. He also founded the Winterfest Hot Air Mass Ascension in 1987. Both events have grown over the years and are now managed by the local Chamber.
Rocky Mountain Balloon Adventures
"After moving to Pagosa Springs in 1980 to be a ski bum, I recognized the need for timeshare owners to have something fun to do while vacationing. I started Rocky Mountain Balloon Adventures in 1986 but there was only enough work to pilot part time.
To keep my balloon company viable, I tended bar and did odd jobs, including truck driving, law enforcement, construction and whatever else it took. I was finally able to become a full time balloon pilot in 2000 when Pagosa's tourist trade was strong enough for my business to sustain itself."
Mike Marchand, Pilot/Business Owner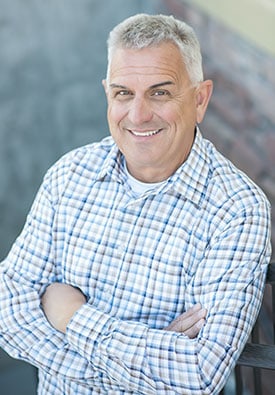 "I was born in Youngstown, Ohio and raised in Albuquerque, NM, the balloon capital of the world. I have an older brother who teaches college in California and a younger sister in Fort Collins, CO. My mother still lives in Albuquerque, NM.
I have flown in the Albuquerque International Balloon Fiesta (the largest balloon event in the world) since 1986 and have done commercial rides there since 2000. I've flown people of all types and even had a few brushes with fame (pro football players, high profile people, and I once even flew Bill Gates and his family for a birthday in August of 2012 in Utah).
Out of my four kids, one became interested in flying. My son Austin helps with the business and has received his commercial pilot's license with a hot air balloon rating.
I enjoy taking my equipment to other countries to fly in the off season and have visited the Philippines, Costa Rica and Leon, Mexico. Someday I'd like to own a fishing boat in Costa Rica and let the kids take over the business while I relax on the water!"
Austin Marchand, Pilot
Austin was born in the nearby town of Durango, Colorado and was raised here in Pagosa Springs (which is, in part, what makes him such an amazing guide!)
Austin earned his commercial pilot's license for hot air balloons in 2017, but has been flying in Pagosa since he was a baby with his dad, Mike, who started Rocky Mountain Balloon Adventures in 1986.
Austin grew up around the business, as well as flying with his dad in various places, including the Albuquerque International Balloon Fiesta.
Austin is thrilled to carry on Rocky Mountain Balloon Adventures and share the beautiful world of hot air balloons with his passengers! He loves flying in Pagosa because of the unique and beautiful scenery, as well as meeting passengers who come to visit from all over the world.
(Weather permitting, Austin flies 7 days a week year-round and has over 800 piloting hours.)
When he isn't flying, Austin enjoys snowboarding, rock climbing, and being outside in the beautiful area of Pagosa Springs, Colorado!
Want to see the spectacular views Austin and Mike do?
Associations and Organizations Member
Rocky Mountain Balloon Adventures is a member of the organizations and associations listed below. The goal of each is to set, ensure and exceed high safety standards, proper pilot certification and accountability, balloon equipment reliability, and ongoing education in the hot air ballooning field.
Rocky Mountain Balloon Adventures is also a member of: