How to Prepare for Your Flight
To make your balloon ride the best it can be, we suggest the following:
1. Print and Sign the Liability Release Form
To save time, you can print out the PDF to review and sign it. Be sure to bring it with you!
If you don't have access to a printer, we'll have copies available when you arrive.
2. The Night Before Your Hot Air Balloon Ride
Eat dinner and get a good night's rest.
3. The Morning of Your Balloon Ride
Eat a light breakfast and drink a lot of water to decrease discomfort while flying. There is little sensation of movement, just a smooth, easy drifting feeling, so motion sensitive stomachs are rarely affected. If you choose to help inflate and deflate the balloon, you'll need the energy as well.
Stay hydrated, especially in our high altitude to combat dizziness, etc.
4. What to Wear
What to expect: you'll be assisting in inflating and deflating the balloon (unless you choose not to), walking over uneven terrain and climbing in and out of the basket. Temperatures will change throughout the experience as well.
Dress comfortably for the season and in layers
Wear sturdy shoes (no sandals)
In the winter, the burner will help keep you warm and we recommend wearing snow boots
Sunglasses, hats and consider wearing sunscreen
5. What to Bring
Cameras, video cameras and your sense of adventure!
6. Meeting Location and Time
We meet in the Photos by Griz parking lot at 565 Village Drive, Suite C, uptown near City Market. You can view the map on our Contact page for directions.
Meeting Time: This changes throughout the year due to daylight savings and weather, so please check your confirmation letter to avoid any confusion. We get started early and on time.
7. Weather Cancellations
In the unfortunate event of a flight cancelled due to weather, you'll receive a phone call from us as soon as we know (that morning or the night before), and the option to reschedule or receive a full refund.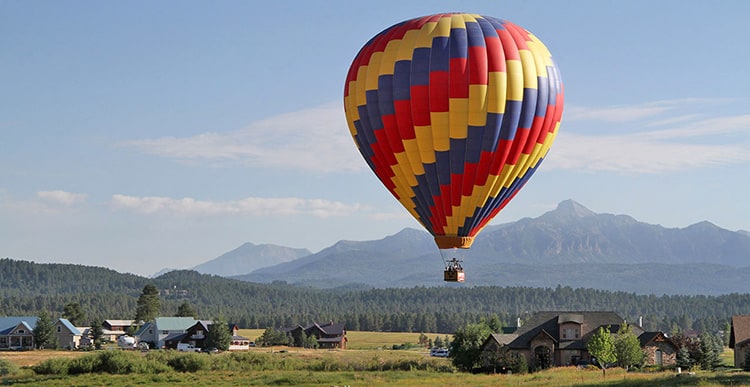 Have you booked your flight yet?